#2 Bridge Marathon - Get to know us!
Thursday 31 January 2019 9:00 AM Thursday 31 January 2019 5:30 PM
Save
Saved
Last update 01/02/2019
2929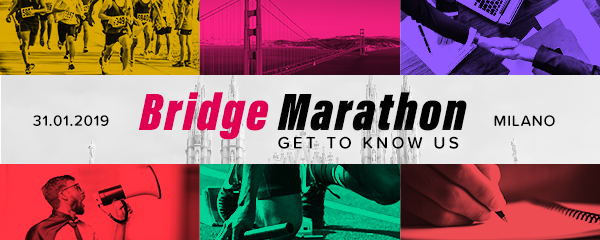 Una maratona delle soft skill


Allenarsi, mettersi alla prova, crescere.

In un mondo del lavoro dove il mantra è il cambiamento, appendere le scarpe al chiodo significa restare ingessati ai blocchi di partenza.
Rinvigorire i muscoli, oliare i tessuti, stimolare la mente è doveroso, come lo è allenare alcune tra le capacità manageriali più utili: negoziare e comunicare con efficacia. Un set di competenze per vivere al meglio le sfide della maratona del lavoro.

La Marathon è una giornata dedicata alla pratica di alcuni degli strumenti più efficaci dei tre percorsi formativi di Bridge Partners®: Nego Pro®, Think on Your Feet® e Writing Dynamics™.

La II edizione della Bridge Marathon, sulla scia del sold out della prima, ti aspetta il 31 gennaio a Milano. Get to know us!

AGENDA

09:20 – 11:15 La negoziazione e dintorni
11:15 – 11:40 Pausa caffè e networking
11:40 – 13:15 Comunicare con efficacia e gestire le obiezioni
13:15 – 14:30 Pranzo e networking
14:30 – 16:30 Il business writing nell'era digitale
16:30 – 17:15 Domande, chi è Bridge Partners®, premiazione.

N.B. Per chi acquista la partecipazione a uno dei nostri training - NegoPro® Digital, Think on Your Feet® o Writing Dynamics™ - entro 6 mesi dalla Marathon è riservato il 10% di sconto.
SEDE

Bridge Partners® Milano
Via San Maurilio, 23 - 20123. VI piano, citofono n°8.
Tel. 02 36755064
cc0053;">mappa
Mezzi
Metropolitana M1- Linea Rossa - Fermata Cordusio
Metropolitana M3 – Linea Gialla – Fermata Duomo
Parcheggio
Nelle vicinanze sono presenti vari garage (Parking Borromeo, Garage Sanremo, Garage Nerino 6, ecc.).
F.A.Q
• Materiale
Ogni partecipante riceverà una cartellina con fogli appunti e biro.
• Qual è la politica di rimborso?
I biglietti non sono rimborsabili, se non in caso di annullamento dell'evento da parte di Bridge Partners®

• Contatti
Hai domande relative a #2 Bridge Marathon - Get to know us!?
Contatta Bridge Partners®: eventi@bridgepartners.it
Nearby hotels and apartments
Bridge Partners® Milano - VI Piano
Via San Maurilio 23, Milano, 20123, Lombardia, Italy
Bridge Partners® Milano - VI Piano
Via San Maurilio 23, Milano, 20123, Lombardia, Italy
Event from
eventbrite.it