Mob Programming Workshop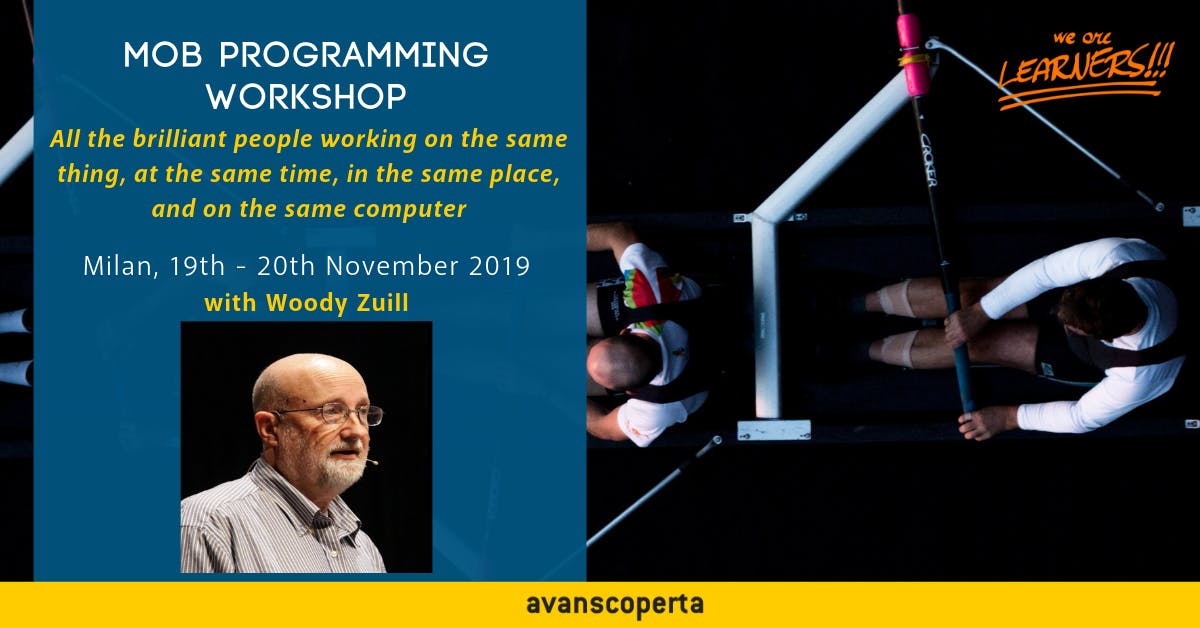 Image from eventbrite.it
From Tue 19 November 2019 to Wed 20 November 2019
From Tuesday 19 November 2019 to Wednesday 20 November 2019
---
Milan, 19th - 20th November 2019
Mob Programming by Woody Zuill is a cost-effective, collaborative and fun way to get work done together. It's a whole-team approach to development, where coding, designing, testing, and working with the "customer" (partner, Product Owner, User, etc.) is all done as a team.
Join this workshop and experience two days of learning and doing Mob Programming. We cover the mechanics of how to work together as a Mob as well as the techniques that make this form of development so effective.
We'll learn how a Mob performs sample project work, including user stories, prioritization, test-driven development, refactoring, and retrospectives.
Designed and facilitated by Mob Programming pioneer Woody Zuill, this workshop provides a hands-on education in the art of mobbing and its significant benefits for your teams.
Program
Hands-on Exercises, Presentation, Interactive Dialogues, Simulations, Videos.
Introduction: Mob Programming Introduction, The basics of how it works
The nature of software development
Teamwork - a good thing
Driver/Navigator teamwork Roles and Techniques
Coding Dojo Demonstration: A simple demo of Mob Programming with volunteers from the participants
Advanced Mob Programming Concepts - Hands on coding
Coding Exercise: Working on a Sample Project, learning to work together using a few rules
Amplified Learning
How to take advantage of learning opportunities
Continuing the Coding Exercise: Removing the rules
Retrospective and review, group discussion of what we've learned.
What will you learn
How 5+ people can be effective working on just one thing
Heuristics for team size
Guidelines for successful collaboration
Handling competing solutions and ideas to a coding problem
Encouraging politeness and kindness of team members
Reducing or eliminating harmful conflicts
Mobbing Mechanics
Tools for team coding
Workspace setup
How to "Amplify Learning" and take advantage of continual learning opportunities
"Real-time" and continuous Retrospectives to reflect, tune, adjust
The theory of why Mob Programming is effective
Test-Driven Development (TDD) as a team
Working with Product Owners, Business Experts, Testers, Designers as part of the team
Refactoring as a team
Continuous feedback at all levels of granularity.
Expect to get your hands dirty
During Woody Zuill's "Mob Programming" workshop you'll be engaged in a variety of activities optimised for learning: Hands-on Exercises, Presentations, Interactive Dialogues, Simulations, Videos.
We will be doing coding as a team. Each team will be given a number of tiny requirements, or stories, one at a time. Each group will work on it as a team but with certain limitations as to how they are allowed to interact.
We then reflect on the results and modify the limitations so that by the end of the first day all limitations are removed except a few critical guidelines of interaction that we originated as Mob Programming.
Once we have the basics of Mob Programming in place, each team will pick a problem challenge to work on together.
Target Audience
Anyone involved in software development, including (but not limited to) testers, product owners, programmers, database experts, deployment experts, managers, and even executives. Our focus in this workshop is the Mob Programming approach to teamwork, and this workshop is useful to those who will work on a team as well as those who provide support for a team.
Pre-requisites / Entry requirements
There are no pre-requisites besides being willing to work with a group of people at a computer. Whether you have never programmed before, or you are an accomplished professional programmer, you will be able to participate.
F.A.Q.
Laptop: Do I need my laptop?
Yes, you will need to take your laptop with you.
Pre-workshop activities: Is there anything I need to do before the workshop?
No, no pre-workshop activities are needed.
Teaching language: What language will this workshop be in?
The workshop and all the materials will be in English.
Confirmation: Is the workshop guaranteed to run?
No, the workshop will be confirmed upon reaching a minimum number of participants. All registered participants will be notified by email no later than one month prior to the workshop date.
About the workshop
Language: The workshop will be in English.
Time: from 9.30 am to 5.30 pm each day.
Laptop: Check out the FAQ section.
Dress code: Informal.
Included in the price: Two coffee breaks and lunch with the trainer and the other attendees are also included in this ticket... because networking matters :-)
How to get to Milan?
The workshop will be held at the Pirelli Institute (Viale Fulvio Testi, 223, Milan).
Check out how to get to the Pirelli Institute, our recommendations for the accommodation, how to get to Milan, and much more at our Istituto Pirelli Institute Venue Page.
Not enough? Drop us a line at info@avanscoperta.it.
Link to the website: https://www.avanscoperta.it/en/training/mob-programming-workshop/
Trainer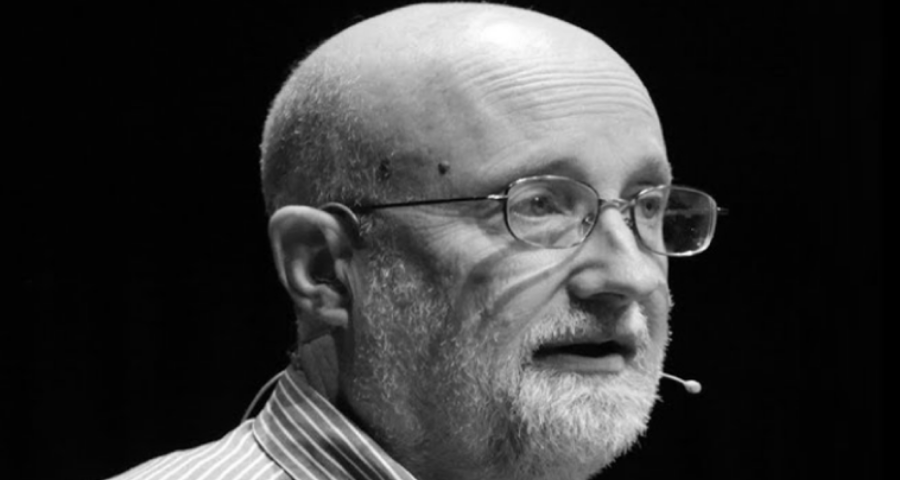 Woody Zuill
Where
Pirelli Institute, Viale Fulvio Testi, 233, 20162, Milan (Italy).

When
19th - 20th November 2019, from 9.30am to 5.30pm.
Payment
PayPal, Credit Cards, or Bank Transfer via info@avanscoperta.it
Under_Cover_Learner Discount - SAVE 20%
If you're paying the ticket out of your own pocket and you don't have a VAT number, you can get a 20% discount on any tickets and on any ticket tiers!
How? Just enter the Under_Cover_Learner promotional code in the registration field on Eventbrite.
Please note: This code cannot be used in conjunction with any other offers/discount codes, and it applies to any ticket tier.
Doubts? Questions? Drop us a line: info@avanscoperta.it
We accept the following methods of payment:
PayPal, Credit/Debit card (via PayPal, click on the link: "Don't have a PayPal account?"), Bank transfer (upon request - contact us at info@avanscoperta.it).
T&C, Privacy Policy, cancellations and refunds, Venue info
Find out more at this link.
431 Views - 21/11/2019 Last update
Pirelli Institute
Viale Fulvio Testi, 223, Milano, 20162, Italy
---
Are you an event organizer?
Create events for free. They will be immediately recommended to interested users.
Create event
Nearby hotels and apartments
Viale Fulvio Testi, 223, Milano, 20162, Italy
---
---
Pirelli Institute
Viale Fulvio Testi, 223, Milano, 20162, Italy
Event from
eventbrite.it
---
---
Are you an event organizer?
Create events for free. They will be immediately recommended to interested users.
Create event