Venice Carnival & Dance Photography Trip & Workshop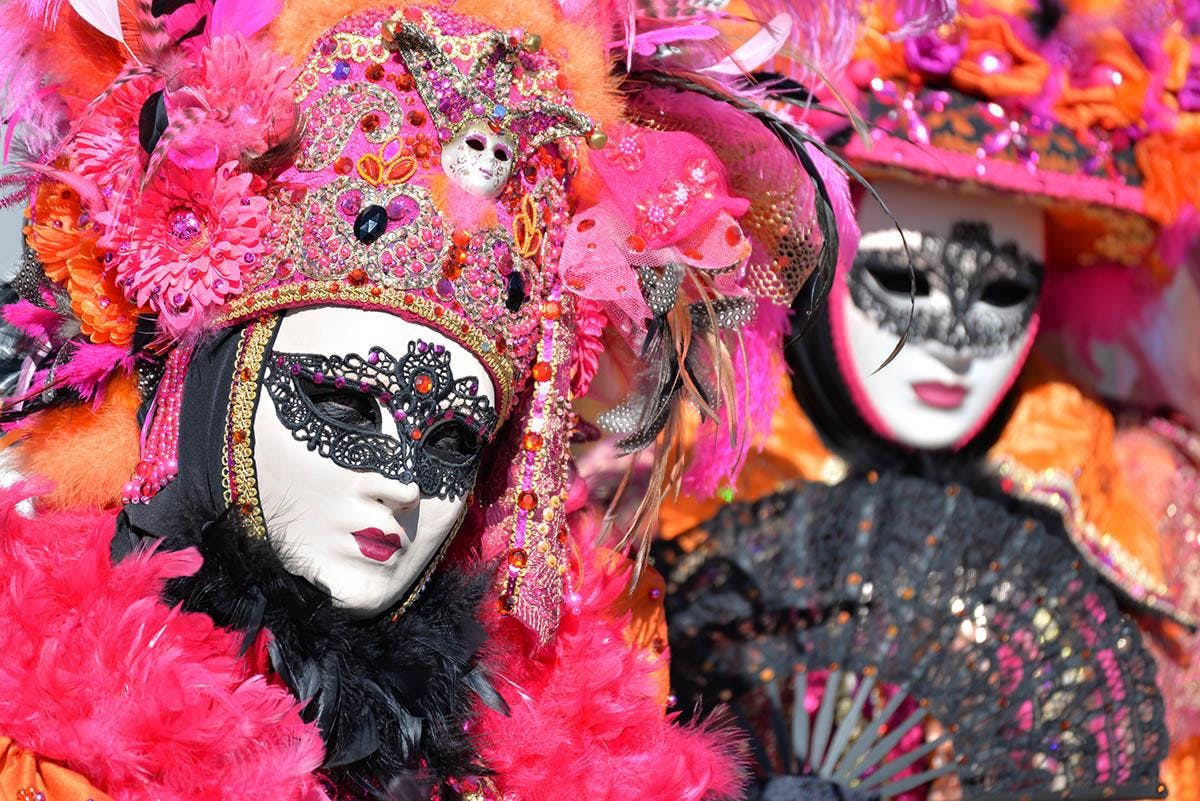 Image from eventbrite.co.uk
From Fri 1 March 2019 to Sun 3 March 2019
From Friday 1 March 2019 to Sunday 3 March 2019
---
Dance... Masquerade... Extravagant Ball Gowns... Colourful Flowing Fabrics...
Vibrant Carnival... Magnificent Architecture... Venice has it all....
Join us in March 2019 for a photographic adventure in Venice for the Carnival. Uniquely we will also have our own professional model with Venetian style dress (and other outfits) for our exclusive use. Our model is also a dancer and we will also shoot amazing ballet and dance photography in some of Venice's best locations.
In the waters of the Adriatic is one of the most romantic, cultural and evocative places in the world, the priceless treasure that is Venice.
Characterised by bridges spanning the canals, gondolas, amazing architecture, monuments, piazzas, narrow winding lanes and silent waters. It's a photographers dream. Venice is actually a group of fascinating small islands, where art and history combine with old trades and the beauty of the sea.
There has been an annual carnival or festival in Venice since 1162 but the modern carnival we know today was formulated in 1979 and features many traditional elements but also brings new events every year.
Venice has so much to offer the photographer which is why our photography workshop runs for three full days. The itinerary includes photographing many of the well-known Venice landmarks as well as many hidden gems such as quiet canals, atmospheric squares, Gondolas and of course the flamboyantly costumed Venetians.
keeping with all of our photography workshops, we offer advice and guidance to those that need it and each day we will spend time perfecting your skills and knowledge with various photography techniques, and developing your photographer's eye through composition, as well as understanding light and colour.


Trip Details
Date: Friday 1st March to Sunday 3rd March 2019 with optional evening group dinner on Thursday 29th February.
An amazing opportunity to explore and photograph Venice on the final and best weekend of the Venice Carnival. With so much to see and do in this unique cultural city it is always a photographers delight and you will have the added bonus of our own model and dancer plus the fantastic events and costumes of the Carnival. Venice in winter can be very atmospheric.
We only run small groups so you are guaranteed quality and attentive time with me and our model on this trip. We also take a small set of off-camera flashes with softboxes.
What's Included in the trip?
Our events are structured for photographers of all abilities; We cater for everyone from the very experienced to those who are just learning about digital photography. For those that are beginners or need additional help, we provide daily assistance, evaluation and guidance throughout from an experienced fashion, carnival and travel photographer, and if needed we will regularly review your photos and offer constructive feedback - we want you to come away with an amazing array of quality images.
Venice is particularly popular during the carnival so we will explore the city on foot and waterbus to see not only the main sights but also some of the quieter, but no less photogenic areas of the city – taking you to the best places to get the best shots, with timings designed to make the most of the best quality light.
The workshop schedule also gives you scope to do your own thing in a city that has so much to offer.
Also included… Our own dancer and professional model
We will be joined across the weekend by our own professional model Michelle, who will have at least 5 different outfits, one typically Venetian plus floaty ball gowns and creative costumes. She will also create multiple looks with different makeup, masks and hair styles over the weekend so we can shoot as many different styles as possible. Michelle is also an experienced dancer and we will be shooting her performing graceful and exciting ballet and dance moves at some of Venice's best locations.
Why use our own model when there will be so many other people to photograph?
Having experienced and photographed the carnival several times, we know that the most reliable way to really get the best images is to have our own model for our exclusive use. The carnival is very busy and lively and getting the costumed characters to pose how you want or to get some dedicated time with them is very difficult, plus many don't speak English so communicating can be challenging. There are also many other photographers after the same shot or in close proximity so it can be difficult to get full length shots.
Having our own professional model alleviates this problem and also means we can get away from the big crowds, get creative and get much better shots and really use the amazing backdrops that Venice has to offer. Our model shoots will be in addition to spending time shooting the other "public" costumed characters.
We believe we are unique in this approach whereby no other UK Venice Carnival Photography trip has their own model available.
Typical Trip Agenda
Thursday 29th February
This day is not part of the trip agenda but if you get there early there is the Ballad of the Masks with the "Beheading of the Bull" from 14.00 at Piazza San Marco. Thankfully not a real bull but an old Venetian tradition with plenty of masked characters and an effigy of a bull paraded through the streets.
Thursday evening is an optional group dinner at a local restaurant. A time to meet, eat, drink and get to know your fellow photographers.
Friday 1st March
We will meet at 09.30 for a walking trip around the small and lesser know streets of Venice to take in the architecture and atmosphere of Venice. There will certainly be many costumed and masked characters wandering around who are happy to be photographed.
If weather allows and there is demand, we will also have an evening / night photography session. Venice can look very different after dark. The day tourists have gone and many streets are empty but nicely lit at night. A tripod is essential.
Michelle will typically join us in the afternoon for a 3 hour session of outdoor ballet and dance photography.
Saturday 2nd March
We will meet at 09.30 and take the waterbus over to either the Island of Burano or Murano. Murano is famed for its many glass factories, glass blowing demonstrations and shops selling all manner of colourful and intricate glassware. Burano is a little further away and is a kaleidoscope of colour with many of the buildings brightly painted. They also have a large lace industry with plenty of shops selling lace goods.
Early afternoon we make our way back to Venice and to Piazza San Marco. This popular Saturday afternoon sees this famous square filled with elaborate costumed characters all willing to be photographed, from simple jesters to the most amazing intricate vintage costumes. The evening also brings some of the biggest Masquerade Balls and there will be many masqueraders around happy to pose before entering the Palaces - If you wish to attend a Masquerade Ball yourself then visit the official Carnival web site for costume hire and tickets.
Saturday night usually offers live music and dancing on a large stage in Piazza San Marco. Again lots of costumed characters will be around to photograph and it's a real carnival atmosphere!
Michelle will join us all day with several costume options.
Sunday 3rd March
Depending upon demand and weather, we may have an early start to the day and go out at around 6am to photograph the sunrise and the deserted Venetian streets and canals. The Grand Canal can look amazing if its covered in early morning mist.
Otherwise we will meet at 10am to explore the Dursoduro area. There is some amazing architecture in this part of Venice and we'll end up at the Punta della Dogana which offers almost 360 degree views all around the lagoon and across the water to Piazza San Marco.
Michelle will join us for the morning shoot with ball gowns and other creative outfits.
The afternoon offers multiple carnival events in Piazza San Marco. Starting at midday with the Flight of the Eagle where a person dressed as an Eagle flies down from the bell tower to the square below. There is also the competition for the best mask, whilst all around will be hundreds of incredible masked and costumed characters to photograph.
All timings are flexible, weather dependent and subject to change.
Each day we will meet close to the Accademia Bridge in the Dursoduro area so accommodation close to this area is recommended.
What to bring?
Camera – its doesn't matter if you have a simple point and shoot or bridge camera or a super SLR we can accommodate you, improve your photography and take many amazing shots
Lenses: Standard zoom such as 24-70 and a long lens to get in close such as 70-200 zoom is ideal.
Plenty of memory cards (or film if that's your preference)
Battery charger and spare battery if you have one
Tripod – not needed for daily use, but we may have an early sunrise shoot and or evening shoot (subject to weather and demand)
Flash gun – not essential but great to use as fill in flash (tuition available if needed on using your flash)
Instruction books for your equipment. We know a lot about cameras, but we don't know every function of every camera and having the instructions available can help us help you get the best from your camera
Weather is not guaranteed to be good, so bring appropriate clothing for mixed weather such as good walking shoes and waterproof jacket – at the 2017 and 2018 carnival we had glorious warm sunny weather all weekend but past performance is no guarantee of future forecasts!
What's not included
Travel to/from and within Venice, such as flights, buses, water taxi, etc
Food and drink
Hotel and accommodation
Travel insurance
Entry fees to any event or place you may wish to enter (all the outside Carnival events are free to attend)

If the thought of booking your flights and hotel or accommodation is daunting, then we are happy to assist and recommend web sites and flights to ensure you enjoy the trip. Just ask and we will help.
Questions?
Just give me a call on 07836 705 705 or email hello@fusionphotographyworkshops.co.uk
1203 Views - 04/03/2019 Last update
culture
cinema
education
photography
music
concerts
festivals
trade shows
courses
workshop
family
Travel
food
nightlife
Venice
Venice, Veneto, Italy
---
Are you an event organizer?
Create events for free. They will be immediately recommended to interested users.
Create event
Nearby hotels and apartments
Venice, Veneto, Italy
---
---
Venice
Venice, Veneto, Italy
Event from
eventbrite.co.uk
---
---
Are you an event organizer?
Create events for free. They will be immediately recommended to interested users.
Create event
Venice

›